Monthly BUFF Meeting


Second Wednesdays of the Month


Oasis Conference Center, Loveland OH 45140
(map)
The public is always invited and welcome!
The after-dinner program covers some aspect of fly fishing (techniques, destinations, conservation, environment, etc.)
Please register if you will be joining us in person, whether you plan to eat dinner with us or not.
Also note: BUFF is on the hook for each dinner ordered ($20/plate), so we depend on your payment to avoid losses.
Zoom Meeting Link
---
Latest Meeting Announcements
---
Next Meeting Date:


Wednesday February 8th, 2023


On-line registration ends 2/5/2023.


6:00 Social Hour & Cash Bar
6:10 Ten Minute Tech Talk
6:30 Dinner
7:15 Announcements
7:45 Program


Buffet Items:
Chef's Choice Salad and Dressing
KY bourbon BBQ chicken
Mac & Cheese
Southern style green beans
Coffee and Iced Tea
Dessert
Semi-circle table seating will be observed to increase distancing at dinner and visibility during the presentation.

Please return books and videos to the library
so other members can check them out
Be sure to check out the latest BUFFER!
February Program


Brad Petzke

Rivers North Guide Service

"Fly Fishing in Michigan's Upper Peninsula"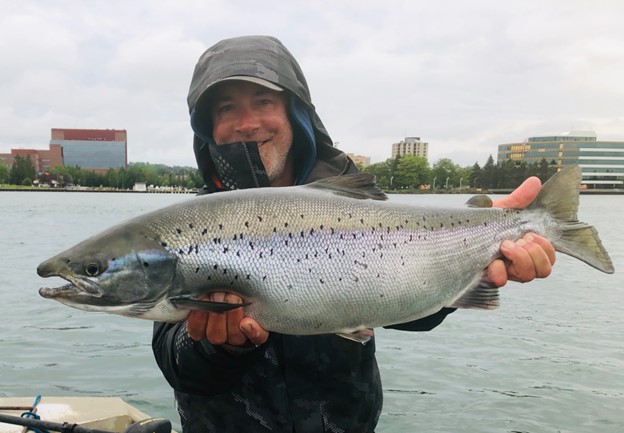 Pioneering different fly fishing techniques & guiding anglers in Michigan's Upper Peninsula since 2001, Capt. Brad Petzke of Rivers North Guide Service offers remote outings in Michigan's most pristine wilderness.

Brad offers his clients a very diverse variety of outings to choose from that are vastly different from what many Midwestern fly fisherman consider the norm. Brad calls the Two Hearted River, St.Mary's and a lot of unmentionable U.P. jewels his home waters.

From Atlantic Salmon, Native Brook Trout, Brown Trout, Wild Steelhead, Pacific Salmon, Smallmouth Bass & Muskie-the U.P. has something to offer all skill levels of fly fisherman. Rivers North Guide Service has a reputation as the U.P.'s premier authority on first class guided fly fishing adventures in "God's Country".